TIPS FOR STAYING ON TRACK DURING THE HOLIDAYS
(or through social occasions)
You've finally been making great progress with your new habits. But with the holiday's right around the corner, it makes it hard to stick to your schedule of eating healthy and exercising regularly.
Don't stress, you don't have to be 100% consistent every second of every day to see the results you want. Indulging without guilt is one of the many challenges my clients face while on their journey to finding good nutrition.
That said, the decision of how strict you want to be during these times is up to you, regardless of the choices you do make, do so consciously and take responsibility for the expected outcome.
TIP 1: AIM FOR "BETTER" INSTEAD OF "PERFECT"
This helps avoid the FUCK IT mentallity when the choices aren't ideal. Think of your fitness and nutrition as a dial you can turn up or down but never off, sometimes you'll be at a "10" where you can do everything perfectly. And sometimes you'll have a million things go sideways and you'll have to dial it down to a 3 or 4.
Just because you can't do it all, doesn't mean you can't do something and it definitely won't mean you've ruined all of your progress.
Be ok with doing less when occasions call for it.
TIP 2: WAIT
Hunger is not an emergency, it's ok to be hungry for a few hours if you don't like the food options at a social gathering.
TIP 3: EAT SLOWLY AND MINDFULLY / STOP AT 80% FULL
Eat slowly and mindfully until full (80%) not stuffed. This strategy helps you avoid overeating for two main reasons:
Physiological It takes 15-20 min for your digestive system to let your brain know that you're satisfied. Slowing down a meal allows that to happen before you overeat.

Psychological When you slow down, "sense into", and savor your food, you feel content with much less. This means you'll eat less but enjoy what you've eaten more.
When eating slowly (and stopping at "satisfied" instead of "stuffed") you can try all the delicious foods on Grandma's buffet without guilt.
TIP 4: MAKE NON-NEGOTIABLES AND START YOUR DAY STRONG
Example; at least 2 servings of veggies, 2 servings of lean protein, 2 liters of water and a 15 minute workout.
Start your day strong and with the right mindset by making specific things a priority regardless of what you choose later on.
TIP 5: BRING BETTER OPTIONS WITH YOU
If you know you are going to be somewhere where options are less than ideal, pack a lunch or bring something to share that fits in with your goals, like veggies and dip, or a fruit plate.
TIP 6: DON'T SHOW UP HUNGRY
If you show up hungry you'll have less willpower, be less likely to eat slowly and make mindful choices. Have high protein high fiber meals as you would regularly so you feel satisfied upon arrival.
TIP 7: SEE ALL YOU'LL EAT
Nothing needs to be off limits, but our minds like to play tricks on us. We can eat 20% more or less without knowing it. Put everything you plan on eating on one plate or in front of you, this includes desserts and snacks, this way you can't lie to yourself about how much you've eaten. Same thing with drinks, keep the empty refills in front of you.
TIP 8: THINK 20% LESS AND 20% MORE
Eat 20% less of the less ideal foods and load up 20% more of the ideal ones like veggies and lean protein.
TIP 9: BE THE PACE SETTER AND FINISH LAST
We tend to eat at the same pace as those around us, and we tend to eat quite a bit more depending on the amount of people we are sitting with. Try and eat so slowly that you are the last to finish in your group.
TIP 10: PLAN AHEAD
Ask what will be on the menu so you can plan your day accordingly based on what a successful meal out would look like for you. Check in with yourself, will there be any foods you tend to lose control around ? Will there be people who trigger an emotional reaction that leads to binge eating?
STRATEGY 10: FOOD SCALE?
For most people, although estimating may not be 100% accurate, it is better than not tracking at all. A few extra carbs and fats on one day are not going to derail your progress entirely, if you are weighing your foods to the gram every day consistently, one meal out once in a while as long as you don't use it for a free for all won't throw off your progress.
If you're training for a competition and must be very strict with your macros in order to make weight, then yes you should be weighing all of your food if you decide to go out to eat. This is not the time to be estimating much of anything.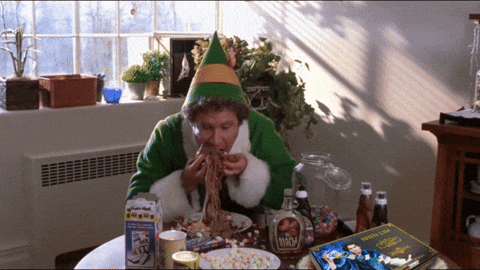 Are you sick and tired of doing crazy diets to lose weight only to end up gaining it all back every single time?


If you really want to make changes that last, you shouldn't be restricting yourself of anything.


If you want to learn how, click on the link below.